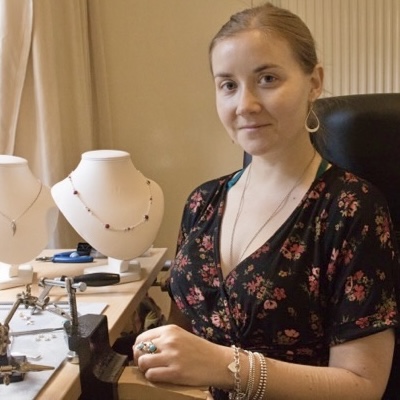 Exhibits at
I am a jewellery designer-maker, handcrafting genuine gemstone and sterling silvery jewellery. Each piece I make is a one-off design, and never repeated.

I am passionate about creating one-off designs. Using sustainable, eco friendly, genuine and ethically sourced materials. My vision is for every customer to have something unique to them, and to enjoy wearing the beauty found in nature.

I studied Fashion and Jewellery Design at the London College of Fashion. Then obtained further qualifications in Silversmithing at Central St. Martins School of Design in London. Going on to teach jewellery making to students of all ages and abilities at London's top rated jewellery-making school.

After three years of leading groups in different styles of jewellery making, I decided I wanted to handcraft my own designs and sell my vision direct to customers.

I was very honoured to have my jewellery feature in the September 2016 edition of Harpers Bazaar fashion magazine.

I am now proud to be selling through Westgate Galleria, gift shops in London, online and at artisan craft markets. I am happy to take commissions and you can contact me through Westgate Galleria.