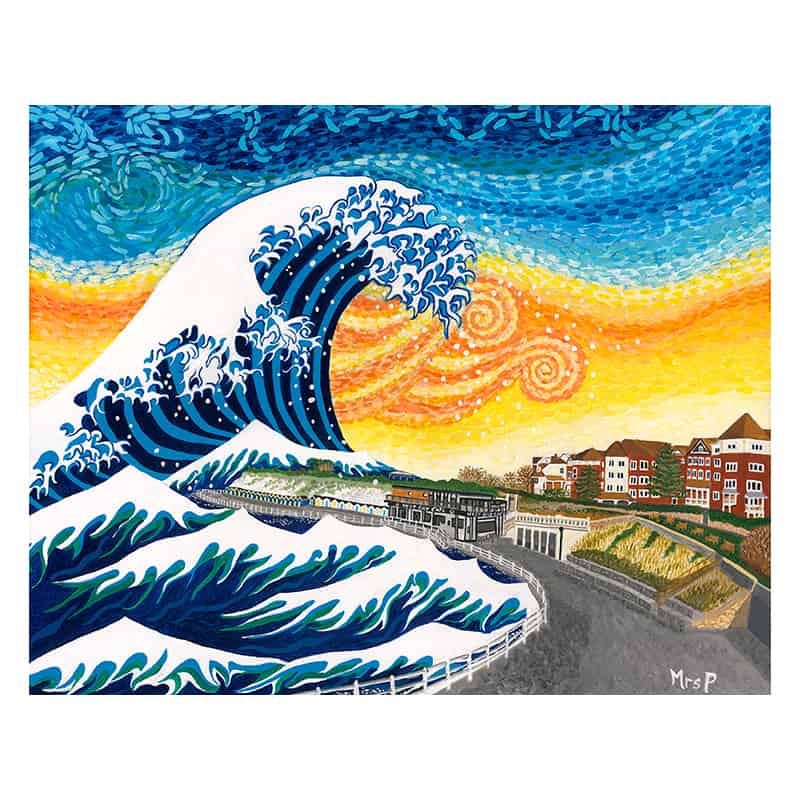 Exhibits at
Michele Papageorghiou – also known as Mrs P – has always had a passion for art and craft. During the August Summer Holidays she would usually undertake a project.  Whether it be mosaicking tables, (even the garage), making ceramics, fusing glass to make jewellery, or decorating garden objects.

Having retired from working as a local primary school teacher, Michelle found time to enjoy Thanet's beautiful scenery.  She was also able to undertake activities at a more leisurely pace, allowing her to experiment with alternative artistic styles.

Margate - Under the influence… (aka MUTI) was the first in Michele's series of local seascape paintings, paying homage to Van Gogh and Hokusai.

After receiving compliments from family and friends Michelle plucked up the courage to approach her local gallery owners.   Sarah and Vivienne of Shoreline Partners provided impartial feedback and were enthusiastic about MUTI, and its potential appeal to others. Michele took the plunge and had her MUTI painting made into a greetings card.   Next came a giclee print which is available framed and unframed. MUTI prints and cards  are very popular with the galleries' clients.

Broadstairs (BUTI) and Westgate (WUTI) editions have now joined Michele's series of Under The Influence paintings.  With prints and cards available at Westgate Galleria and The Eclectic Art Gallery.  Also available online.

Michele is one of the resident group of artists exhibiting at The Eclectic Art Gallery.